Have a Happy Hiking Holiday
An ultralight list of gift ideas
Every year I get asked about "the perfect holiday gift" for the friend or family longwalker.  Since backpackers don't want to carry anything extra, you don't need anything big.  Think small.  Here are a few ultralight stocking stuffers.

Safety first.  Some of these trails are long, and people few and far between.  The next village or campsite may be "just over the next hill", but it is over the hill.  This Fox 40 Micro Whistle
is basic safety gear, one of the key components of any hiker's kit.  You never know when one false step can put you in need of help, so be ready to call out.  Super loud, and only 5 grams.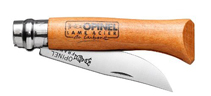 There really isn't a simpler knife than the French-made Opinel
. It holds a fine edge, and has a unique locking ring to keep it safely open or closed.  I prefer the #6, 28 grams (exactly 1 ounce), but you may prefer the larger and more common #8, 50 grams (1.8 ounces).  I find Swiss Army knives too big and asymmetrical, with a bunch of "tools" that I have yet to need.  This clever, inexpensive blade will make short work of any hunk of cheese and its companion baguette.


Smartphones may not be traditional hiking gear, but they serve a lot of weight-saving functions for walking your way through the modern world.  This USB to iPhone/iPod Cable
weighs only 7 grams, saving 15 grams (over 1/2 an ounce) compared to Apple's standard cable. It's super short, keep your gear bag small and light. I used one for 3 months while walking in France and Spain and it worked great. It's strong enough to hold the phone hanging from an outlet, but I often propped up my phone on a shoe leaning against the wall. There are short cables for cameras and other electronics, too. Recommended.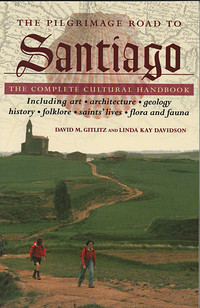 If someone you know is planning to walk the Camino, this is a great, thorough primer on the history and culture of the entire French route. The Pilgrimage Road to Santiago
 covers art, architecture, history, tales and legends of all the main (and many intermediate) stops along the way. Get it early, because it's better to read it beforehand so you don't need to carry it on your walk. It's heavy, but recommended.
These are just a few examples.  There's a large library of books, maps and trail guides, language courses and dictionaries, gear, and clothing that will help get your merry marcher along any of the dozens of trails and pilgrimage routes in France, Spain, (and all of Europe), or into the American wilderness.  All are available from AMAZON
.
I've field-tested them all and they're the best I've found so far.
Happy Holidays from Longwalking, and a happy hiking New Year on the trail!