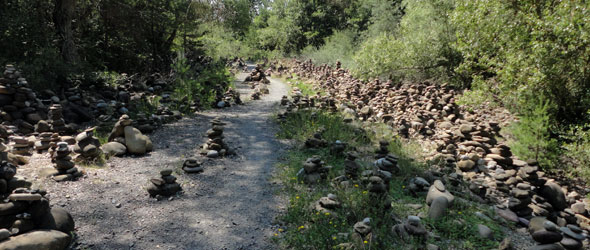 A walker's "web mall"
My little cheat sheet of where to get the goods
Finding great hiking equipment, clothing, footwear, books and know-how can take quite a bit of hiking across the Internet Mountains, through the Webworld Woods and down the Hyperlink River – sometimes seeking solutions, sometimes tracking down a specific piece of gear. It's gets frustrating when source "A" doesn't carry the brand I want, "B" doesn't have the model I need, "C" doesn't stock my size, "D" is out of the color I like, "E" only sells at list price…
So I began a list of places that sell stuff for long-distance walkers, trail hikers, Camino junkies, and backpackers in general. It's sort of a "web mall" – one long page of links to websites that have the goods.
I'm not trying to sell anything here. Really. You should buy whatever you need from whomever you want. I do. It's a way to remember websites I like to check out. Some are famous, others are not, but whenever I browse here, I find new products, ideas and information – and when the right thing shows up at the right price – I find a good deal, too.
Do you have a favorite source? If you know a good web store, please let me know so I can share the link.  If you had a bad experience somewhere, we'd all like to know that, too.

[It's a little graphics heavy & may take a moment to load.]
~
Fine print: Longwalking is an affiliate of some web stores. If you hop there from here and buy something, they toss me some trail mix. That's cool, but it's not the reason longwalking is here ~ why shop when you could be out taking a walk?